Here at Whitaker's Farm Market, many of you will recognize the red and green building from driving down State Route 13 between Bellville and Fredericktown as we are conviently located just 4 miles south of Bellville and 5 miles north of Fredericktown.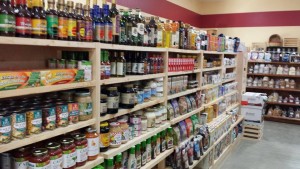 What many people are surprised by is are large selection inside!  We have natural, organic, and traditional food items as well as supplements, deli, bakery, and so much more!
Whitaker's Farm Market features your choice of:
Hand Dipped Graeter's Ice Cream
Handmade Deli Sandwiches including Reubens, Italians, Chicken Salad, Grilled Cheese, BBQ Beef, and our Signature Custom Deli Sandwich
Exclusive Bakery
Snacks, Candy, & Munchies
Dried Fruit
Deli Meat & Cheeses
Teas and Local Coffee
Locally Raised Beef, Chicken, Lamb, Goat, and Bison
Ohio Honey
Farm Fresh Eggs (both duck and chicken)
Bulk Foods (Traditional, Natural, & Organic)
Regular Grocery Section
Healthy Food Choices
Natural Supplements
Essential Oils (from Now and our own practitioner grade line!)
Gluten-Free Selection (The largest selection of Gluten-Free Foods in Richland County.)
Local Buckeye Creamory Low Temp Vat Pasturized Milk
Dairy Products (dressings, cheeses, yogurt, cottage cheese, sour cream, dips, and more!)
Baking Supplies (flour, sugar, spices, salt, yeast, and much more!)
Ohio Maple Syrup
Salt Galore (himalayan, Real Salt, Celtic Sea Salt, salt lamps, salt slabs for cooking, salt deoderant, and many more salt items)
Ice Cold Drinks
Fresh Ground Nut Butters
Baby Essentials
Pet Food & Treats
Local Produce (Large Selection in season!)
Local Artians (Wooden Trays, Scrubbies, Handmade Cards and Gift Bags, and More!)
Naturopathic Doctor on Staff.
Please visit us at Whitaker's Farm Market, 7427 State Route 13, Bellville, OH 44813!  Just 4 miles south of Bellville and 5 miles north of Fredericktown.
YOUR CHOICES ARE ENDLESS:
Customized Gift Baskets
Unique Party Trays
Tailored Deli Sandwiches and Salads
Special orders for those unique and hard to find items
Bulk orders for your baking or cooking needs
Plus much more